BHB Expedition - Band 7 Afrika, Algeria - Djibo
von Michael Laumanns

Atlas of the Great Caves and the Karst of Africa (1nd edition)

Part 1: Introduction, Algeria - Djibouti

The cavers Yellow Pages on Africa. For the very first time a whole continent is presented from a speleological point of view. Each country is presented in detail including maps (topography, geology and karst occurrences) as well as a description of the geolocical settings ...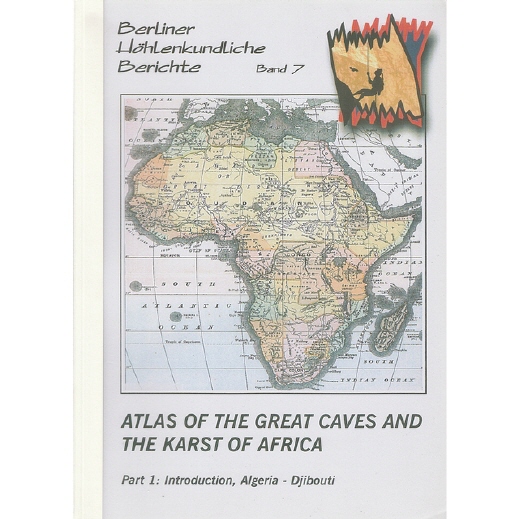 von Michael Laumanns

Atlas of the Great Caves and the Karst of Africa (1nd edition)
Part 1: Introduction, Algeria - Djibouti

The caver s Yellow Pages on Africa. For the very first time a whole continent is presented from a speleological point of view. Each country is presented in detail including maps (topography, geology and karst occurrences) as well as a description of the geolocical settings, the history of speleological exploration, a detailed list of the longest and deepest caves (incl. surveys), a list of useful addresses and an in depth bibliography
| | |
| --- | --- |
| Published by: | Berliner Höhlenkundliche Berichte |
| language: | english |
| printing: | 2002 |
| pages: | 102 |
| illustration: | b/w cave descriptions, numerous cave surveys and maps |
| format: | A4 |
| cover: | paperback |