ACTA Carsologica Journal 2006 - Band 35/1
Audience: Karst geologists, hydrologists and hydrogeologists, geomorphologists, speleologists, biologists, civil engineers and readers with general interest in caves and karst.

Articles:
- Tectonic inception in caledonide marbles. Trevor Faulkner
- Hydrochemic characteristics and tectonic situation of selected springs in central and NW Yunnan province, China. Stanka Sebela, Janja Kogovsek
Monitoring the flood pulses in the epiphreatic zone of karst aquifers: the case of Reka river system, karst plateau, SW Slovenia. Franci Gabrovsek, Borut Peric ...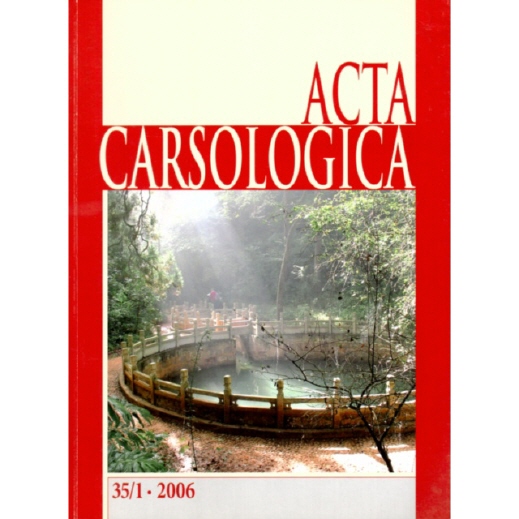 Various Authors

Journal of scientific papers from ZRC SAZU, the Karst Research Institute of the Scientific Research Centre of the Slovenian Academy of Sciences, and Classis IV SAZU, Postojna, Slovenia:

Editorial board: Franco Cucchi, (Italy), Joze Car (Slovenia), Franci Gabrovsek (Co-editor; Slovenia), Ivan Gams (Slovenia), Matija Gogala (Slovenia), Andrej Kranjc (Editor in chief; Slovenia), Marcel Lalkovic (Slovakia), Jean Nicod (France), Mario Plenicar (Slovenia), Trevor R. Shaw (Slovenia), Tadej Slabe (Slovenia).

Acta Carsologica, publishes orginial research papers and reviews in all the fields related to karst. These comprise, but are not limited to karst geology, hydrology and geomorphology, speleology, hydrogeology, biospeleology and history of karst science.

Audience: Karst geologists, hydrologists and hydrogeologists, geomorphologists, speleologists, biologists, civil engineers and readers with general interest in caves and karst.

Articles:
- Tectonic inception in caledonide marbles. Trevor Faulkner
- Hydrochemic characteristics and tectonic situation of selected springs in central and NW Yunnan province, China. Stanka Sebela, Janja Kogovsek
Monitoring the flood pulses in the epiphreatic zone of karst aquifers: the case of Reka river system, karst plateau, SW Slovenia. Franci Gabrovsek, Borut Peric
Physico-chemical properties of travertine deposition - the case of Podstenjsek (Slovenia).
Janja Kogovsek
- Glacial karst, why it is important to research. Bulat R. Mavlyudov
- Lakes in gypsum karst: soma examples in alpine and mediterranean countries. Jean Nicod
- Peculiar minerogenetic cave environments of Mexico: the Cuatro Ciénegas area.
Paolo Forti, Ermanno Galli , Antonio Rossi
- Lithological and morphological characteristic and rock relief of the Lao Hei Gin shilin-stone forest (Lunan, SW China). Martin Knez, Tadej Slabe
- Vulcanospeleology in Saudi Arabia. John J. Pint
- Protection of Karst in the Philippines. Sonata Dulce F. Restificar,Michael J. Day ,Peter B. Urich
- The story of the 1833 Fercher survey, Postojnska jama, continues: an additional document and newly discovered inscriptions. Stephan Kempe, Hans-Peter Hubrich , Klaus Suckstorff
- Karst research in the 19th century - Karl Dezman's (1821-1889) work. Stanislav Juznic
- E. A. Martel, the traveller who almost became an academician. Pierre-Olaf Schut
- Postojnska jama in Slovenia, the Südbahn and the visits of John Charles Molteno: their influence on the development of railways in South Africa. A. Stephen Craven
| | |
| --- | --- |
| Published by: | Zalozba ZRC Publications |
| ISSN No.: | 0583-6050 |
| language: | english |
| printing: | 2006 |
| pages: | 162 |
| illustration: | B/W photos |
| format: | 16,5 x 23 cm |
| cover: | softcover |