The Darkness Beckons - 2nd Ed.
by Martyn Farr

The History and Development of Cave Diving

This acclaimed book describes the dangerous yet fascinating world of cave diving and its history. It is a tale of tenacity, technical skill, humour, risk, tragedy, and human courage. The book is written from a British perspective, yet is internationally comprehensive.
This is a reprint of the edition first printed in 1991. Updated material has been added at the end in a supplement which summarises the developments through 1999.
Martyn Farr, lives in Crickhowell, South Wales. He is one of Britain's leading cave divers, who has played a major role in the exploration of Wookey Hole and many of the cave systems of South Wales and Ireland. He was also involved in earlier pioneering dives in Scotland and Yorkshire. During recent years he has made significant cave diving explorations in China, Japan, Borneo, Bahamas, Mallorca and Turkey and has also dived at Yucatan, Florida and some of the main French sites.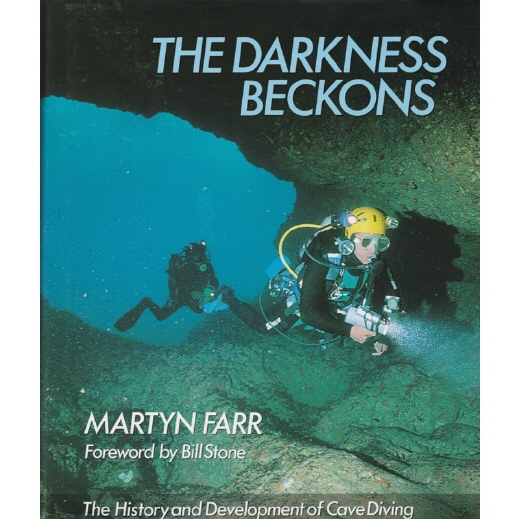 by Martyn Farr

The History and Development of Cave Diving

This acclaimed book describes the dangerous yet fascinating world of cave diving and its history. It is a tale of tenacity, technical skill, humour, risk, tragedy, and human courage. The book is written from a British perspective, yet is internationally comprehensive.
This is a reprint of the edition first printed in 1991. Updated material has been added at the end in a supplement which summarises the developments through 1999.
Martyn Farr, lives in Crickhowell, South Wales. He is one of Britain's leading cave divers, who has played a major role in the exploration of Wookey Hole and many of the cave systems of South Wales and Ireland. He was also involved in earlier pioneering dives in Scotland and Yorkshire. During recent years he has made significant cave diving explorations in China, Japan, Borneo, Bahamas, Mallorca and Turkey and has also dived at Yucatan, Florida and some of the main French sites.

Antiquarian book
Condition: like new
| | |
| --- | --- |
| ISBN No.: | 0-939748-32-0 |
| language: | english |
| printing: | 1991, Reprinted 2003 |
| pages: | 304 |
| illustration: | b/w, color photos, maps |
| format: | 21,5 x 25 cm |
| cover: | Hardcover with dustjacket |