Caves of Sky - La Venta
G. Badino, A. De Vivo, L. Piccini: La Venta- Esplorazioni Geografiche, Edizioni Tintoretto

A journey in the heart of glaciers.
Glaciers are the most ephemeral part of the landscape, the only bit of geology capable of displaying visible variations during the short time span of one's life. On the other hand, they are formed by the accumulation of ancient snowfalls and therefore they are the most conspicuous and durable witness of climatic vicissitudes. A piece of sky plowing the mountains.
It has been known for a long time now that the rivers that flow on them are engulfed by blue chasms and are lost in the depths of the glacier. Yet, it is only recently that glacial-speleologists learnt to follow their paths, slowly deciphering the complex internal structure of glaciers. These caves, ever-changing like clouds but at the same time as stable as the whirlpools of river, are extraordinarily beautiful, like abysses carved into a shred of sky. This book tells about them.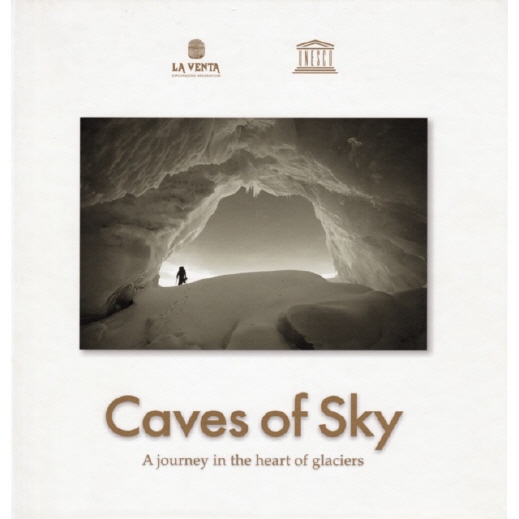 G. Badino, A. De Vivo, L. Piccini: La Venta- Esplorazioni Geografiche, Edizioni Tintoretto

A journey in the heart of glaciers.
Glaciers are the most ephemeral part of the landscape, the only bit of geology capable of displaying visible variations during the short time span of one's life. On the other hand, they are formed by the accumulation of ancient snowfalls and therefore they are the most conspicuous and durable witness of climatic vicissitudes. A piece of sky plowing the mountains.
It has been known for a long time now that the rivers that flow on them are engulfed by blue chasms and are lost in the depths of the glacier. Yet, it is only recently that glacial-speleologists learnt to follow their paths, slowly deciphering the complex internal structure of glaciers. These caves, ever-changing like clouds but at the same time as stable as the whirlpools of river, are extraordinarily beautiful, like abysses carved into a shred of sky. This book tells about them.

La Venta Geographical Association is an Italian team that also includes explorers from Argentina, Mexico and United States.

12 January 2007: Award from UNESCO as a relevant book for the International Polar Year 2007-2009!
"With this marvellously illustrated work, the La Venta exploration team is not only sharing with us the precious memory of more than 20 years of impassioned exploration of caves of sky all around the world, but also reminding us all about the fundamental role ice caps and glaciers are playing in the hydrological cycle, while the international community is preparing itself to celebrate 2007-2009 as the International Polar Year. Polar regions and glaciers encapsulate about seventy percent of the freshwater resources of the world, and represent also the most sensitive systems to climate change; it is a matter of fact that there could not be any serious scientific investigation of such phenomenon without an acute observation of changes affecting glacial systems.
The polar history is made of spectacular and well popularized expeditions which started during the second half of the nineteenth Century; glaciology grew up constantly during the same period, while glacial speleology (or glaciospeleology), considered for too long no more than an extreme sport practice, was recognized as a scientific discipline only during the last decades of the twentieth century. Its development during the last 25 years was considerable, in Europe and Iceland first, then in the rest of the world.
Using the extraordinary evocative strength of black and white illustrations, the book Caves of Sky is also a testimony of the part the La Venta team took in such a development.
By sharing this book with them, it is our firm intention to encourage all UNESCO partners to give new impetus to monitoring, research and dissemination efforts in the field of glacial hydrology and the assessment of climate change effects on the hydrological cycle, and more generally in the search for sustainability, hoping that they could be contaminated by such a mix of spirit of adventure, passion, openness to discovery, innovation and scientific rigorousness."
Philippe Pypaert
Regional Hydrologist
UNESCO Regional Bureau for Science and Culture in Europe
| | |
| --- | --- |
| Publisher: | La Venta |
| language: | english |
| printing: | 2007 |
| pages: | 176 |
| illustration: | many b/w photos |
| format: | 23 x 23 cm |
| cover: | hardcover with dustjacket |