Karst, Caves and People
by Nadja Zupan Hajna

The purpose of the book is to present karst phenomena as natural sights in a popular way, and at the same time, emphasize their importance to people and their extreme vulnerability. Through numerous photographs and schematic models, the book tries to explain scientific findings about karst processes, formation of different surface forms and cave types, as also the problems which people arise to the karst environment with their way of life. The photographs of sixty-two authors represent different types of karst and caves from almost all over the world. Karst functions the same way all over the world. People have negatively affected the environment for thousands of years, but the sheer size of today's human population leads to more conspicuous and inevitable negative environmental consequences. Pollution affects not only water quality but also caves and their fragile ecosystems. The basis for all karst protection activities is knowledge and understanding. Karst and caves are part of our environment. Even if we do not live in the karst or ever visit a cave, all people on Earth benefit from the water they provide, from their ecosystems, and from their economic values linked to tourism. The book was published with the help of the Slovenian National Commission for UNESCO.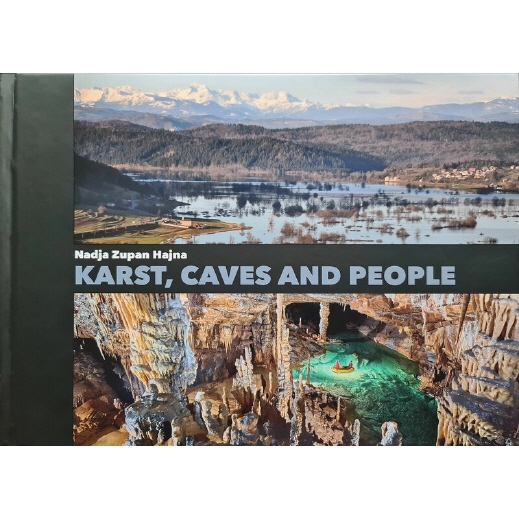 Table of content

Foreword
Preface
KARST
1.1. KARST
1.2. KARST AS A TERM
1.3. KARST WORLDWIDE
1.4. KARST AS 3D LANDSCAPE

KARST ROCKS
2.1. TYPES OF KARST ROCKS
2.2. CARBONATE ROCKS
2.2.1. LIMESTONE FORMATION
2.3. EVAPORITES
2.4. GEOLOGY

KARST WATERS
3.1. KARST WATERS
3.2. KARST AQUIFER
3.3. KARST SURFACE WATER
3.3.1. FLOODS
3.3.2. PONORS
3.3.3 KARST SPRINGS

KARST PROCESSES
4.1. DISSOLUTION
4.2. KARST AND CLIMATE
4.3. CORROSION INTENSITY
4.4. CALCAREOUS SURFACE DEPOSITS
4.5. KARST IN OTHER ROCKS

SURFACE KARST FORMS
5.1. KARST SURFACE FORMS
5.2. KARST SURFACE
5.3. KARST LANDSCAPES
5.4. KARREN
5.4.1. KARREN TYPES
5.4.2. GROOVES
5.4.3. KAMENITZAS
5.4.4. KARREN PAVEMENTS
5.4.5. GIANT KARREN
5.5. DOLINES
5.5.1. TYPICAL DOLINES
5.5.2. SOLUTION (CORROSION) DOLINE
5.5.3. COLLAPSE DOLINE
5.5.4. DOLINE KARST
5.6. POLJES
5.6.1. POLJE'S HYDROLOGY
5.7. KARST PLAINS
5.8. HIGH MOUNTAIN KARST
5.9. CONE AND TOWER KARST
5.10. CONTACT KARST
5.11.CAVE ENTRANCES

CAVES
6.1. CAVE TYPES
6.2. CAVE PASSAGES
6.2.1. ENTRANCE SHAFTS
6.2.2 INNER SHAFTS
6.2.3. CAVE CORRIDORS
6.2.4. CAVE CHAMBERS
6.3. WORLD LARGEST AND DEEPEST CAVES IN 2020
6.4. KARST CAVES FORMATION
6.5. EPIGENE CAVES
6.5.1. EPIGENE CAVES IN KARST

HYDROLOGICAL ZONES
6.5.2. EPIGENE CAVE LIFETIME
6.5.3. EPIGENE CAVES EXAPMLES
6.6. HYPOGENE CAVES
6.6.1. HYPOGENE CAVES EXAMPLE
6.7. CAVES IN GYPSUM
6.8. CAVES IN SALT
6.9. CAVES IN QUARTZ SANDSTONE
6.10. VOLCANIC CAVES
6.11. GLACIER CAVES
6.12. TECTONIC CAVES
6.13. LITTORAL CAVES
6.14. NATURAL BRIDGES
6.15. UNROOFED CAVES
6.16. CAVE CONTENTS
6.16.1. CAVE SEDIMENTS
6.16.2. CAVE MINERALS
6.16.3. COMMON CAVE MINERALS
6.16.4. SPELEOTHEMS
6.16.5. SPELEOTHEMS VARIATIONS
6.16.6. CLASTIC SEDIMENTS
6.16.7. CAVE CLIMATE
6.16.8. ICE CAVES
6.16.9. CAVE LIFE
6.16.10. SURFACE SPECIES IN A CAVES
6.16.11. CAVE-DWELLING FAUNA
6.16.12. PALEONTOLOGICAL REMAINS
6.16.13. ARCHAEOLOGICAL REMAINS
6.17. CAVES AND HUMAN

PEOPLE AND KARST
7.1. KARST VULNERABILITY
7.2. THREATS
7.2.1. EXAMPLE OF THREATS
7.2.2. DEVASTATED KARST
7.3. VULNERABILITY OF KARST WATERS
7.3.1. WATER SUPPLY - KARST AQUIFERS
7.3.2. WATER SUPPLY - KARST SPRINGS
7.4. GARBAGE AND LANDFILLS
7.5. INTENSE AGRICULTURE
7.6. DEFORESTATION – PASTURE / LOGGING
7.7. MASS TOURISM
7.8. CAVE TOURISM
7.9. CAVES POLLUTION & DEGRADATION
7.10. WHAT CAN BE DONE?

EXPLORE
8.1. CAVE EXPLORATION
8.2. CAVING HISTORY AND SOCIETIES
8.3. CAVING
8.3.1. CAVING TECHNIQUES
8.3.2. CAVE MAPPING
8.3.3. CAVE DATABASE

UNDERSTAND
9.1. CAVES AND KARST SCIENCE
9.2. KARST AQUIFERS STUDIES
9.3. STUDIES OF CAVES - SPELEOLOGY
9.3.1. MODELING STUDIES
9.3.2. DATING AND CLIMATE PROXIES
9.3.3. SPELEOBIOLOGY

PROTECT
10.1. SUSTEINABLE MANAGEMENT OF KARST
10.2. PROTECT KARST AREAS
10.3. PROTECT UNDERGROUND
10.4. CAVE TOURISM GUIDELINES
10.4.1. CAVE TOURISM MONITORING
10.5. EDUCATION
10.6. INTERNATIONAL YEAR OF CAVES AND KARST 2021

UNESCO CAVES AND KARST
11.1. CAVES AND KARST RELATED UNESCO WORLD HERITAGE SITES
11.2. CAVES AND KARST RELATED UNESCO GLOBAL GEOPARKS

REFERENCES
12.1. REFERENCES & SOURCES
12.2. SOURCES
| | |
| --- | --- |
| by: | Nadja Zupan Hajna |
| language: | english |
| printing: | 2021 |
| pages: | 172 |
| illustration: | many full color pictures |
| format: | 28 x 21 cm |
| cover: | hardcover |