BHB Expedition - Band 40 Malaysia Part 1
by Michael Laumanns & Liz Price

Atlas of the Great Caves and the Karst of Southeast Asia
Part 1: Introduction - Malaysia

The "Yellow Pages" of caving in SE Asia. Each country is presented in detail including topographic and karst occurrence maps as well as a description of the geological settings, the history of speleological exploration, a detailed list of the longest and deepest caves (incl. surveys), a list of useful addresses and an in–depth bibliography.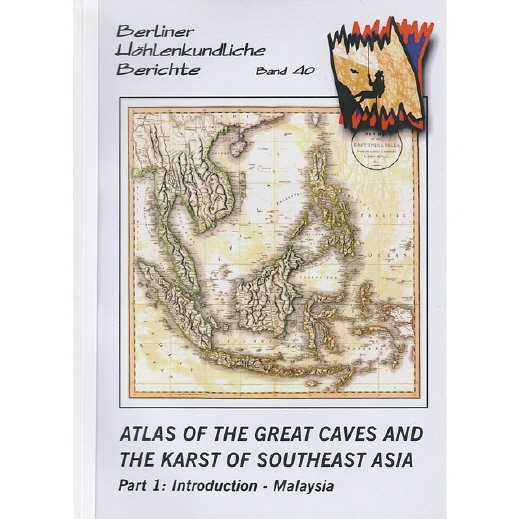 by Michael Laumanns & Liz Price

Atlas of the Great Caves and the Karst of Southeast Asia

Part 1: Introduction - Malaysia
The "Yellow Pages" of caving in SE Asia. Each country is presented in detail including topographic and karst occurrence maps as well as a description of the geological settings, the history of speleological exploration, a detailed list of the longest and deepest caves (incl. surveys), a list of useful addresses and an in–depth bibliography. Some countries also have maps showing the administrative divisions and other relevant thematic maps
| | |
| --- | --- |
| Published by: | Berliner Höhlenkundliche Berichte |
| language: | english with a German und French abstract |
| printing: | 2010 |
| pages: | 172 |
| illustration: | b/w hundreds of cave descriptions, cave surveys and maps |
| format: | A4 |
| cover: | paperback |