ACTA Carsologica Journal 2006 - Band 35/2
Audience: Karst geologists, hydrologists and hydrogeologists, geomorphologists, speleologists, biologists, civil engineers and readers with general interest in caves and karst.

Articles:
- SPATIAL PLANNING AND PROTECTION MEASURES FOR KARST AREA. Elery Hamilton-Smith
- Management Models Development Show Caves Tourist Destinations Croatia. Neven Bocic, Aleksandar Lukic, Vuk Tvrtko Opacic
- TOURISM AND PRESERVATION POLICIES IN KARST AREAS: COMPARISON BETWEEN THE SKOCJAN CAVES (SLOVENIJA) AND THE ARDECHE GORGE (FRANCE). Mélanie Duval ...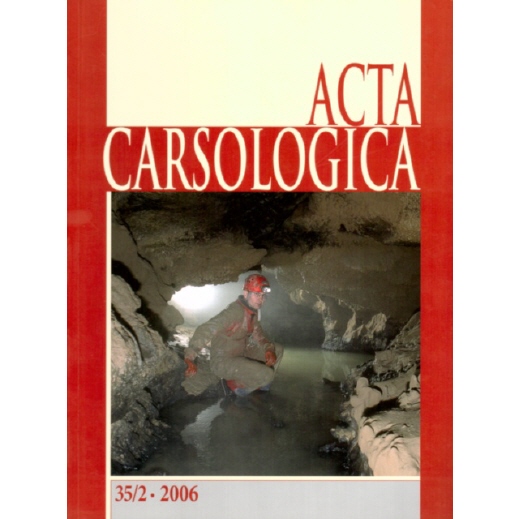 Various Authors

Journal of scientific papers from ZRC SAZU, the Karst Research Institute of the Scientific Research Centre of the Slovenian Academy of Sciences, and Classis IV SAZU, Postojna, Slovenia:

Editorial board: Franco Cucchi, (Italy), Joze Car (Slovenia), Franci Gabrovsek (Co-editor; Slovenia), Ivan Gams (Slovenia), Matija Gogala (Slovenia), Andrej Kranjc (Editor in chief; Slovenia), Marcel Lalkovic (Slovakia), Jean Nicod (France), Mario Plenicar (Slovenia), Trevor R. Shaw (Slovenia), Tadej Slabe (Slovenia).

Acta Carsologica, publishes orginial research papers and reviews in all the fields related to karst. These comprise, but are not limited to karst geology, hydrology and geomorphology, speleology, hydrogeology, biospeleology and history of karst science. Audience: Karst geologists, hydrologists and hydrogeologists, geomorphologists, speleologists, biologists, civil engineers and readers with general interest in caves and karst.

Audience
Karst geologists, hydrologists and hydrogeologists, geomorphologists, speleologists, biologists, civil engineers and readers with general interest in caves and karst.


Articles:
- SPATIAL PLANNING AND PROTECTION MEASURES FOR KARST AREA. Elery Hamilton-Smith
- Management Models Development Show Caves Tourist Destinations Croatia. Neven Bocic, Aleksandar Lukic, Vuk Tvrtko Opacic
- TOURISM AND PRESERVATION POLICIES IN KARST AREAS: COMPARISON BETWEEN THE SKOCJAN CAVES (SLOVENIJA) AND THE ARDECHE GORGE (FRANCE). Mélanie Duval
- THE CONCEPTS OF HERITAGE AND HERITAGE RESOURCE APPLIED TO KARSTS: PROTECTING THE CHORANCHE CAVES (VERCORS, FRANCE).
Christophe Gauchon, Estelle Ployon, Jean-Jacques Delannoy, Sébastien Hacquard, Fabien Hobléa, Stéphane Jaillet, Yves Perrette
- EVALUATING THE HUMAN DISTURBANCE TO KARST ENVIRONMENTS IN SOUTHERN ITALY. Fabiana Calò, Mario Parise
- CHANGES IN THE USE OF NATURAL RESOURCES AND HUMAN IMPACT IN THE KARST ENVIRONMENT OF THE VENETIAN PREALPS (Italy). Ugo SAURO
- SUSTAINABLE MANAGEMENT OF BRACKISH KARST SPRING PANTAN (CROATIA). Ivana Fistanic
- KARST WATER MANAGEMENT IN SLOVENIA IN THE FRAME OF VULNERABILITY MAPPING. Natasa Ravbar, Gregor Kovacic
- Tracing of the stream flowing through cave Ferranova buza, Central Slovenia. Miha Staut, Primoz Auersperger
- TRACER TEST ON THE MALA GORA LANDFILL NEAR RIBNICA IN SOUTH-EASTERN SLOVENIA. Janja KOGOVSEK, Metka PETRIC
- DOLENJSKA SUBSOIL STONE FORESTS AND OTHER KARST PHENOMENA DISCOVERED DURING THE CONSTRUCTION OF THE HRASTJE LE_NICA MOTORWAY SECTION (Slovenia). Martin KNEZ, Tadej SLABE
- Glacial destruction of cave systems in high mountains, with a special reference to the Aladaglar massif, Central Taurus, Turkey. Aleksander Klimchouk, Serdar Bayari, Lütfi Nazik, Koray TÖrk
- Electron Spin Resonance (ESR) Dating In Karst Environments. Bonnie A. B. Blackwell
- The History of Postojnska Jama: The 1748 Joseph Anton Nagel inscriptions in Jama near Predjama and Postojnska Jama. Stephan Kempe, Hans-Peter Hubrich, Klaus Suckstorff
| | |
| --- | --- |
| Published by: | Zalozba ZRC Publications |
| ISSN No.: | 0583-6050 |
| language: | english |
| printing: | 2006 |
| pages: | 174 |
| illustration: | B/W photos and colour |
| format: | 16,5 x 23 cm |
| cover: | softcover |